Conducting reflective photography exhibition of 'Pyaar Bantu' campaign
,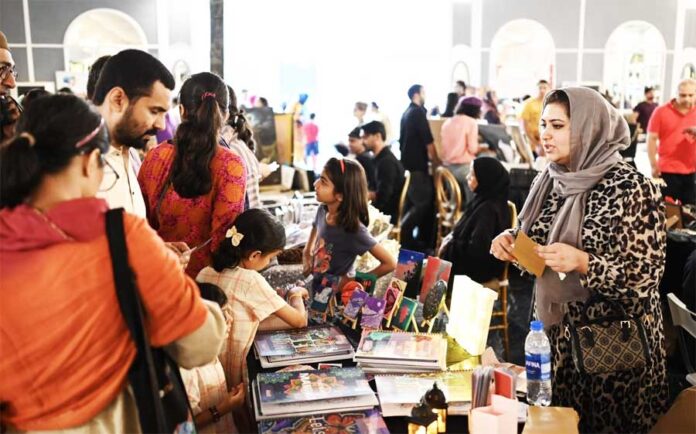 KARACHI: With the influx of fans, and the match fueling the passion of cricket fans – thousands of fans turned their support and passion to handcraft at The Crafters Expo for its 10th anniversary celebration. A press release said the venue was greeted with enthusiasm by elderly people in wheelchairs, young children, and a diverse mix of family and friends who cheered for 135 businesses in the spirit of handmade in Pakistan. Expressed.
The event began with a photography exhibition by the Karachi Down Syndrome Program depicting the Pyaar Bantu campaign. To get into the spirit, R Photography organized a photo booth with countless props to capture the memories of the day. The outdoor activity area was filled with food and drink, demonstrations, WOW snacks, a Crew Mart, and even Bluebird Arts integration. Uncle Bashir, who sells balloons, also participated in the event. Sarwat Gilani's Art House caters to hundreds of creative hands in activities, the proceeds of which are generously donated to Smile Sunshine. Countless children were engaged with the Titales played by Wahda Dolls for multiple segments of stories by local authors and storytellers. Snaf, the online marketplace, offered its offline presence for books by Marzih Abbas and Fiza Asr, while representing the work of Trinkets and Creative Mess.
Some young creators took full charge and connected with their users in a gallery designed for kids 16 and under. With the support of the parents, the children had a ball of a time representing their handiwork, and receiving praise. Firefly (the umbrella under which The Crafters Guild has grown) was presented with vibrant and quirky gifts and lifestyle items. Silba and Galila made their mark with traditional craftsmanship in contemporary design. Popular among the youth, Rusarte, Artkaari, The Paperbox and She's Crafty offered a variety of trinkets, stationary and versatile gifts. Traditional handicrafts representing Akhtar Chanal from Kalat and block-printed textiles from Bhat Shah were also popular at the event. Cruise, a brand that specializes in crochet crafts, had most of its beautiful range of dolls and toys in storage until midday.
Aliza Munim, who speaks with her words due to her inability to hear and speak, represented her beautiful work with The World of Art. Obaidah Saqib, who reached out to gallery owners to pitch her passion and offer a teaching role for her intricate work as a fine artist. Ms. Nigar Nazar of Gogi fame was the chief guest, and visited countless stalls to talk to creators and promote their work. Privish Hughes exhibited for the first time and shared the response he received for his hand-painted gifts. Groomers.pk's Pasand Kiosk offered attendees unique services with haircuts and trims – a novel take on grooming needs and skincare at your doorstep.
Countless food stalls including Sinful Bites, Home Made Wellsome, L'amour Jams and others sold out on the day. Brands like Geppetto, which specialize in luxury leather goods, not only sell but connect with partners and potential corporate clients in this venture. Rida's regale artistry, whose work has been influenced by her son over the years, has also received rave reviews for her detailed resin crafts with Sufi elements. Groomers.pk's Pasand Kiosk offered attendees unique services with haircuts and trims – a novel take on grooming needs and skincare at your doorstep.
Yasir Balu of Toybricks Pakistan through his activity on behalf of Toybricks Pakistan engages children in cognitive play through Lego – keeping screens and gadgets away. Beneficiaries of sewing machines pledged by Henrigar, Smile Sunshine and The Crafters Guild thanked for their support. The sewing machines were gifted in honor of the deceased who were the patrons of the local craft community. Organizations like RLCC, Senosa, and KDSP (Leher) were given the opportunity to showcase work by their community members.