Literature Festival Indore: Discussions on issues from mention of family to global platform
,
Date of Publication: | Sunday, 27 November 2022 02:55 AM (IST)
Literature Festival Indore: Indore (Representative). On Saturday, prominent creators and thinkers of the country expressed their views on the impact of literature on society, status of women, dimensions and themes of writing, country conditions, family etc. On the second day of the three-day Indore Literature Festival organized by Hello India, issues ranging from the family to the country and the world were discussed. During this period of brainstorming, which lasted from morning to evening, the speakers freely discussed many important issues.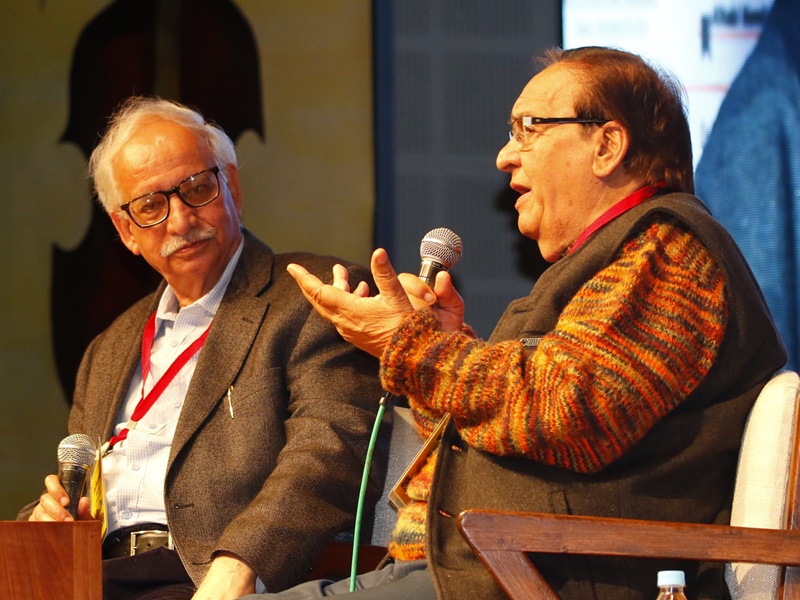 Vandana Raag and Urmila Shresh on "Satri: Time Changed Not Soch Nai" said that times have certainly changed today, but in many ways people's thinking has not changed much. A woman's role in society, her responsibility and rights are the same. Undoubtedly, women entered the country's politics, became women through Sarpanch reservation, but the power rests with the men of their families. Similarly, in writing, it is mostly observed that if a woman is writing, the subject only talks about the nature of women or related topics. To some extent women also do not want to come out of these topics.
Many issues are missing in the women's essay – Expressing her views on women's writing, Gagan Gill said that many issues are still missing in women's writing. I believe that a writer should keep breaking down his writing and then building it up. The tricks of writing poetry can be learned from the poems of Rabindranath Tagore, how he made the poems reach the hearts of the readers. As far as my writing is concerned, it is a mystery because I write on a new topic every time and read a lot before writing, especially on serious topics.
Even today, poetry circulates Turning the pages of his life, Leeladhar Jagodi described his journey from the incident of leaving home as a child till today. Also discussed literature with him. He said that he was attracted to reading and writing poetry when he was studying in class eight. I think that poetry went astray then and it is still happening today. The poems written by our great poets at that time were very clean and the name of this era was Chayavad whereas I think it should have been called Sochavad.
Feeling lost due to lack of contact.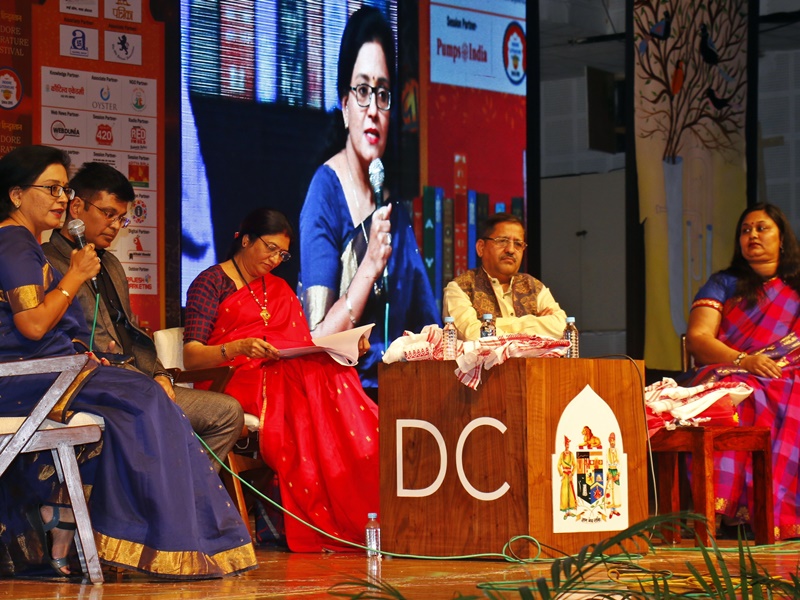 Jyoti Jain discusses live-in relationships and Indian values ​​in literature and cinema with Vikas Dev, Chakrapani Dutt Mishra, Antara Karwade and Garima Dubey. In it, the speakers emphasized that the breakup of the family, the separation of people is the root cause of the end of compassion. Unless there is communication, there will be no feelings. Where are we leading the society when children are living in crèches and old people are living in ashrams? It is the duty of the parents to give time to the children, establish a dialogue with them and educate them by telling them the difference between right and wrong. As long as the rituals of marriage are not followed, there will be both broken and stifled relationships. Gauri Dwivedi, Dargesh Nandini, Rashmita Sharma, Ragini Sharma, Meena Godre, Pratibha Jain, Arun Kamal, Ashwin Singhi etc. also spoke in the program.
Actor Anu Kapoor won hearts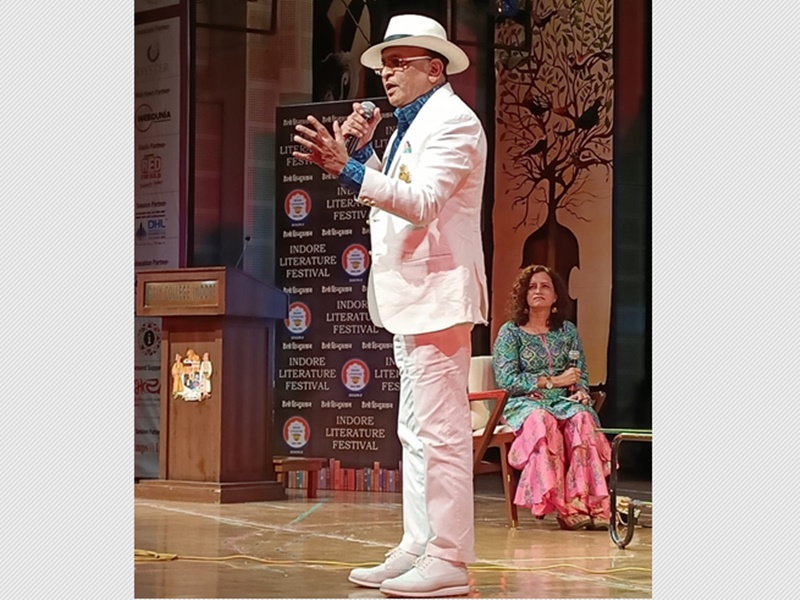 The event's print partner is Nidonia. The event also had a musical talk in the evening in which actor Anu Kapoor won the hearts of the audience with his knowledge. On the third and final day of the event, Deepti Naval, Ajith Roy, Sathya Sharan, Dorjoy Dutta etc. will be speaking. Nidonia will organize a session on the explosive world of crime stories at 2.35 pm. Surendra Mohan Pathak will speak in it.
Today's Events –
9.30am – Open mic.
10 am – Maya Badika, Ashok Nagar, Rajesh Bhandari, Narendra Mandaloi, Chakur Chaturvedi etc. will talk in Malavi dialect group.
10.35 am – Mahima Verma, Manjula Bothra, Monika Purohit, Pankhuri Vaqaf Joshi, Rekha Agarwal, Abha Mishra discuss how to prevent internet media from becoming anti-social.
11.10 am – Deepti Naval will talk on the topic of My Life Stories.
12.05 pm – A conversation with Ajit Roy on the basis of Bollywood
12.40 pm – Behind the scenes conversation with Sathya Sharan
1.25 pm – Meet Sur Mera Yours
6.30 pm – Performance by Mimi Khan & Band
On the lawn by the lake –
1.50 pm – Short story session
2.35 pm – Surendramohan Pathak's talk on the explosive world of crime stories
3.30 pm – Samavadini of the Siddhis – Poems
4 pm – Conversation with Dorjoy Dutta on Course I Love You
4.50 pm – Release of Garima Srivastava's novel
5.15 pm – Kavi Sumilan
6pm – Open Mic
Posted by: Hemraj Yadav