Us: Joe Biden signs new executive order to curb gun culture, curb gun abuse – US President Joe Biden signs new executive order expanding gun background checks
,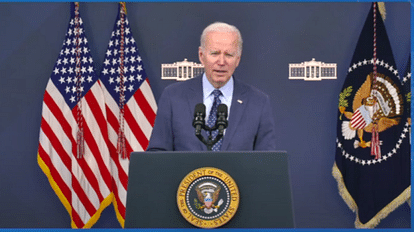 US President Joe Biden.
Photo: ANI
Extension
The Biden administration is committed to curbing America's growing gun culture. US President Joe Biden on Tuesday (local time) signed a new executive order to curb gun violence. The order would bolster efforts to increase the number of background checks conducted during gun sales.
Briefing reporters on gun violence, Biden said, "Today I'm announcing another executive order." They will speed up this work to save more lives. He said this executive order will help keep firearms out of dangerous hands. "While I continue to urge Congress to require background checks for all firearms sales, I signed this executive order," Biden said. My executive order directs my attorney general to take all possible legal action to move us closer to universal background checks without new legislation.
Before buying a gun, it's common practice to check whether it's a felony or domestic abuse conviction, he said. Biden also said that last year, he signed the Bipartisan Safer Communities Act, the most important gun safety legislation in 30 years. It was a concrete step during my tenure that took more executive action to reduce gun violence than my predecessors.
According to a statement from the White House, the executive order will strengthen efforts to hold the gun industry accountable by increasing the effective use of "red flag" laws to identify and arrest shooters who threaten communities. Will speed up enforcement efforts. President Biden is also encouraging the Federal Trade Commission to release a public report that analyzes how gun manufacturers are selling firearms to minors.
Notably, after several incidents of indiscriminate shootings in the United States, the debate about curbing the misuse of weapons has been sparked. In January, 11 people were killed in a shooting near Los Angeles.