Bizarre: 250 long nails are giggling, along with coins! Strange doctors cut the stomach 250 nails, 35 coins recovered from stomach of a patients at Burdwan Medical College and Hospital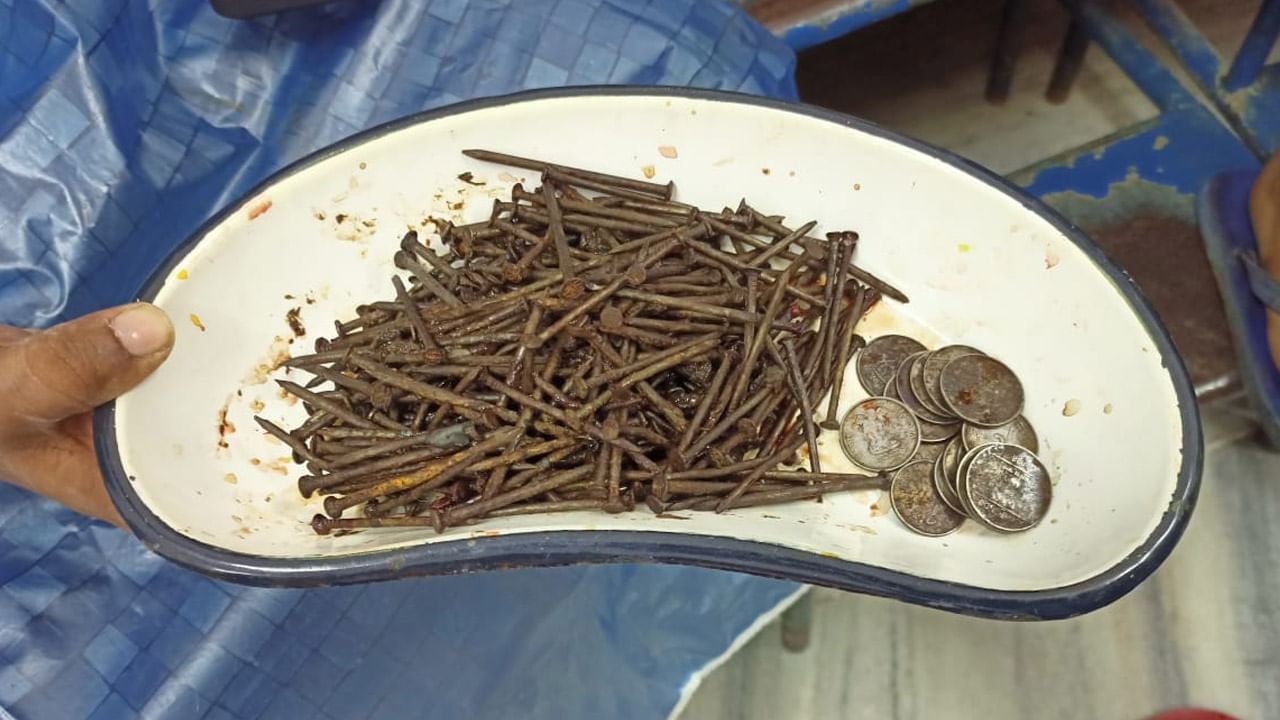 Stones recovered from the inside of the abdomen
Rare Operation: Super Tapas Ghosh of Burdwan Hospital said that he is healthy at present. He said that this surgery was an unprecedented success of Burdwan Hospital.
Burdwan: A middle-aged man came to Burdwan Medical College with severe abdominal pain. By X-ray, the doctors can understand that there are some long things stuck in the abdomen of that person. So the surgeons decided to operate. The doctors of the medical college were surprised to start the surgery. One long nail after another is coming out of that person's stomach. About 250 nails were removed from his stomach. Not just nails. About 35 coins and innumerable stone fragments came out with nails. However, the doctors' surgery in Munsiana was successful. The hospital authorities said that the patient is now healthy.
Sheikh Moinuddin (38), a resident of Krishnabati village in Mangalkot, East Burdwan. They are five brothers. He has been mentally ill for the last 15-16 years. For this, the family members of Burdwan Hospital also get regular treatment. Moinuddin had stopped eating since last Saturday morning. In the afternoon he ate nothing but a glass of milk. He also explained to his family members about stomach ache. On Tuesday, family members took Moinuddin to a doctor at a private nursing home near the city of Burdwan. According to the doctor's advice, X-ray showed that Moibuddin had a nail in his stomach. The family claims that the surgery will cost one lakh rupees.
But Moinuddin's family could not afford to spend that amount. He was taken to Burdwan Hospital on Wednesday morning. The doctors admitted him by X-ray. The surgery is done at night. After that 250 nails, 35 coins and some stones came out from the stomach. He is currently in good health, said Tapas Ghosh, superintendent of Burdwan Hospital. He said that this surgery was an unprecedented success of Burdwan Hospital. Doctors have also expressed surprise over how the nail got into his stomach.
Moinuddin's grandfather Sheikh Musalinuddin said, "This incident is due to his brother's mental problem. We could not have imagined that the doctors of Burdwan Hospital would operate so many nails and coins on his brother's stomach in such a simple way. "He also thanked the doctors of Burdwan Hospital for this. He went to the hospital and found Moinuddin admitted to a two-storey bed in the emergency department. His grandfather Sheikh Muslinuddin and brother Akhiruddin are by his side all the time. Their fear is that if the mentally ill brother does something again!
.